Westboro Baptist Church (WBC) has declared an intent to visit Olympia in conjunction with the June 6th delivery of signatures for Referendum 74, an effort to knock down Washington's marriage equality law before it can go into effect.
WBC is planning a number of lawful expressions of free speech.



Be advised

: WBC often stirs up controversy and then often fails to show up. When they do appear they hold extremely hateful and provocative anti-GLBT signs

.
Here is the schedule as announced on the Westboro Baptist website (godhatesfags.com):



Capital Grounds

– Wednesday, June 6th, 4-5pm



Olympia High School

– Thursday, June 7th, 7:15-7:45am



Thurston County Auditors Office

– Thursday, June 7th, 7:55-9am
Olympia Stands Together!
Three events to create a counter-presence to the Westboro Baptist "church" (a recognized hate group.)
Please join our coalition of citizens and community groups for:
June 6
:
4-5PM – Making Lemonade out of Lemons Rally at the Capitol Campus. June 6th is the deadline for opponents of marriage equality to turn in the signatures needed to put Washington's marriage equality law up for a vote. We'll meet to publicly support equality of all and fundraise for causes WBC works against!

June 7:
7:15-7:45AM - Turn our backs on Hate at Olympia High School. This event organized by OHS students. They request: no signs, wear blue and white (their school colors), park at Lutheran Church of the Good Shepherd at Henderson and North St., stay on the school side of the temporary barriers, and follow school rules and state laws.

7:55-9AM – Goodbye WBC! Going Away Party at Thurston Auditor's office. Keep the good vibe going and support public employees at the auditor's office, then wave goodbye as WBC leaves town!
Our intent is to create positive events that reaffirm our community's commitment to equality.

WBC's strategy is to purposefully instigate hatred and violence. They are known for filing lawsuits after events, and their visits can be followed by a rise in hate crimes.

Help us create a positive atmosphere by:
Being nice, respectful and safe

Not engaging with the WBC protestors

Following applicable laws

If bringing a sign to the Lemonade or Goodbye rallies, consider a positive message rather than a reactionary one.
For more information see:
Also see: Westboro "Baptist Church" Is Coming To Our Town… A Public Statement From Olympia Area Pastors which has been signed by over thirty local pastors. Thank you!
Making Lemonaide Out of Lemons! In the spirit of our 2006 Lemonade Project and the 2001 Every Minute Counts campaign we are asking for people to make a donation for every minute that WBC pickets in Olympia. It can either be by the minute (the WBC is scheduled to picket for 155 minutes in the 3 locations if they do what they posted) or a flat amount.
The two places we are suggesting donations be made to are:
Pizza Klatch which offers facilitated support for GLBTQ youth and their allies in Thurston County. The support is offered during high school lunch periods, with free pizza, to provide a convenient and safe forum for the discussion of topics important to these youths, and to

Washington United For Marriage which is the lead organization for a coalition of organizations, congregations, unions, and businesses working together to secure civil marriage for loving, committed same-sex couples.
When you make your donation please let them know it is because of the WBC's pickets in Olympia. Thank you!!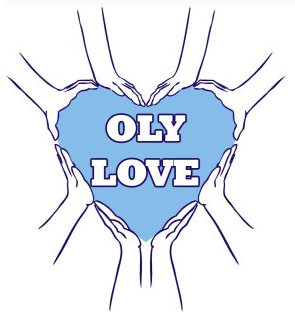 This is a statement from OHS students:
"We believe this is a great opportunity to showcase the incredible class and dignity of our student body and local community. We think this is something that can bring us all together and make us a stronger school and community, and we are inspired and proud to see so many people who are passionate around making a difference and standing up against hate in our community. Thanks for your support and for making our school and community a positive and welcoming environment for all people."
Adults who would like to offer friendly and positive support to the student led Turn Our Backs on Hate Unity Rally:
Don't bring signs.

Wear blue and white (Oly High Bear colors).

Stay on the school side of the temporary barriers.

Follow all school rules and state laws.
Parking at OHS: Park at the Lutheran Church of the Good Shepherd at the corner of Henderson and North Street.
Oly Love - this design (see above) was created by Olympia High School students for people to wear in support at the event at their school on Thursday morning:
pdf format - tif format - png format
(Right mouse click on the link and "save as" to your computer.)
For the OHS event, see: Matt Grant Olympia High School and also Let's turn our backs on hate on Facebook, and OHS Unity Event.
---
NOTE

: Due to the possiblity of an increase in harrassment and violence stirred up by the WBC visit, a Q Patrol has been created as an extra safety measure for this week's Pride events. A Q patrol is a walking patrol of volunteers who act as another set of eyes in the community to keep a lookout for any potential threats to safety,
report any incidences of harassment to the local authorities (if warranted), as well as assist patrons in finding safer locations if need be.
We need your help in making this a safe and fun weekend for our community. If you want to help, Q patrol needs volunteers Friday from 8pm to 11pm and 11pm to 2am and Saturday night from 11pm to 2am. You can email Nichole at crashnostar@gmail.com for more details. Anyone with conflict resolution skills is encouraged to volunteer.
---


Olympia Unity in the Community
http://www.olympiaunityinthecommunity.net