About Olympia Unity in the Community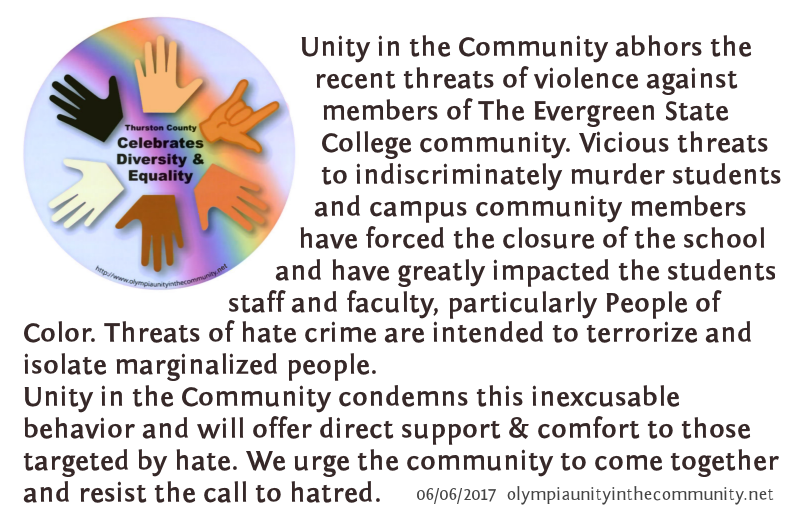 Unity in the Community abhors the recent threats of violence against members of The Evergreen State College community. Vicious threats to indiscriminately murder students and campus community members have forced the closure of the school and have greatly impacted the students, staff and faculty, particularly People of Color. Threats of hate crime are intended to terrorize and isolate marginalized people. Unity in the Community condemns this inexcusable behavior and will offer direct support & comfort to those targeted by hate. We urge the community to come together and resist the call to hatred. 6/6/17 olympiaunityinthecommunity.net
Our City Needs Dialogue, Not Violence
June 4 2015 - "Two young black men were shot by a white police officer on May 21.
We know events like this happen. But here? In Olympia? Yes, here at home. ..."
The Lemonade Project

The Names Ad

Poster & Stickers

Dialogues On Race
A Unity Community Response to Hate Graffiti in SE Olympia
A Guide to Responding to Hate Groups: Lessons from Olympia, Washington - by Reiko Callner and Anna Schlecht, coordinators of Olympia, Washington's Unity in the Community - published on the Not In Our Town website.
Links

Contact Us
Our Graphics & Rini Templeton
Subscribe to the Olympia Unity in the Community News & Announcements email list!




Olympia Unity in the Community
http://www.olympiaunityinthecommunity.net