Building bridges for justice and understanding across our diverse communities.
New Years Day, Friday, January 1, 2016 from noon to 2 PM
On the 4th Avenue Bridge of Friendship in downtown Olympia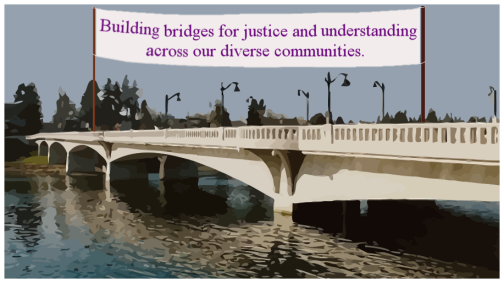 Please join us for this important event on New Year's Day, co-sponsored by Olympia Unity in the Community, Interfaith Works, Thurston County National Organization for Women, Olympia FOR (Fellowship of Reconciliation), Temple Beth Hatfiloh, Olympia Friends Meeting's Peace and Social Justice Committee, and others. Download the PDF flyer
here
.












Past events:
Westboro Baptist Church Hate Group Visits Olympia:
Turn Our Backs On Hate Community Response! -
June 2012
Not in Our Town II Screening - April, 2010
Dialogues ON RACE - December 2008
---
Unity is working with a broad range of groups and individuals to promote events that address diversity, hate crime and building community.

Check this page again, and check the Olympia Movement for Justice and Peace website for current events & activities.



Olympia Unity in the Community
http://www.olympiaunityinthecommunity.net